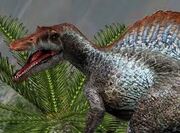 Spinosaurus is a 5-star dinosaur featured in the video game Jurassic Park: Operation Genesis.
Behavior:
Edit
Spinosaurus is an Early Cretacous Large carnivore. It likes areas with large amounts of water. Due to its aggressive behavior, it can get into death duels with tyrannosaurus and other large carnovores. If she/he succeeds the tyrannosaurs or other large carnivores neck will be snapped. If the tyrannosaur or other large carnivore succeeds she/he will break the spinosaurs neck.
Favorite Prey- Ouranosaurus
Length- 15 meters
Edit
Time Period- Early Cretacous
Edit
Stars- Five
Edit
- Spinosaurus is the biggest carnivore to be seen in the game.
- Spinosaurus is one of the four dinosaurs that can be in a death duel.
- The Spinosaurus can be turned into a Suchomimus by modding.
Ad blocker interference detected!
Wikia is a free-to-use site that makes money from advertising. We have a modified experience for viewers using ad blockers

Wikia is not accessible if you've made further modifications. Remove the custom ad blocker rule(s) and the page will load as expected.